HYDERABAD: Task Force police arrested six persons, including three private security company executives, for obtaining firearms by using forged arms licences. Police seized 33 firearms, ammunition and fake arms licences issued in the name of Rajouri district additional magistrate.
The forged firearms procured are used for working in private security agencies.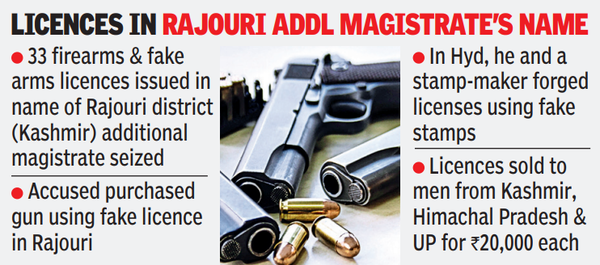 Hyderabad police commissioner CV Anand said mastermind of the racket, Altaf Hussain, a resident of Rajouri district in Kashmir, came to Hyderabad in 2013 and joined a private security company, Grace Management Security Services (GMSS), and was later deployed as a gunman in SIS Cash Services Private Ltd at West Marredpally.
Prior to his employment in city, Altaf purchased a double-bore gun using fake licence in Rajouri. "Altaf got fake licence by bribing an official at Rajouri district magistrate office," Task Force OSD P Radha Kishan Rao said.
In the city, Altaf teamed up with Hafeezuddin, a stamp-maker in Secunderabad, and prepared fake arms licences using fake stamps of Rajouri additional district magistrate and Rajouri police station house officer. Altaf sold the fake licences to unemployed men from Kashmir, Himachal Pradesh and Uttar Pradesh for 20,000 each by telling them they were genuine licences.
Using fake licences, the unemployed men purchased firearms in Nagpur and Pune for 40,000 to 60,000. The 33 men are employed in the city with various ATM cash replenishment agencies. "Asian Security Services (ASS), Nandamuri Security Services (NSS) and GMSS deployed the men with illicit weapons to their clientele," Anand said.