Suzume, the latest film from Makoto Shinkai, has been a huge hit in Japan. Now, Crunchyroll has unveiled its international release with a new trailer.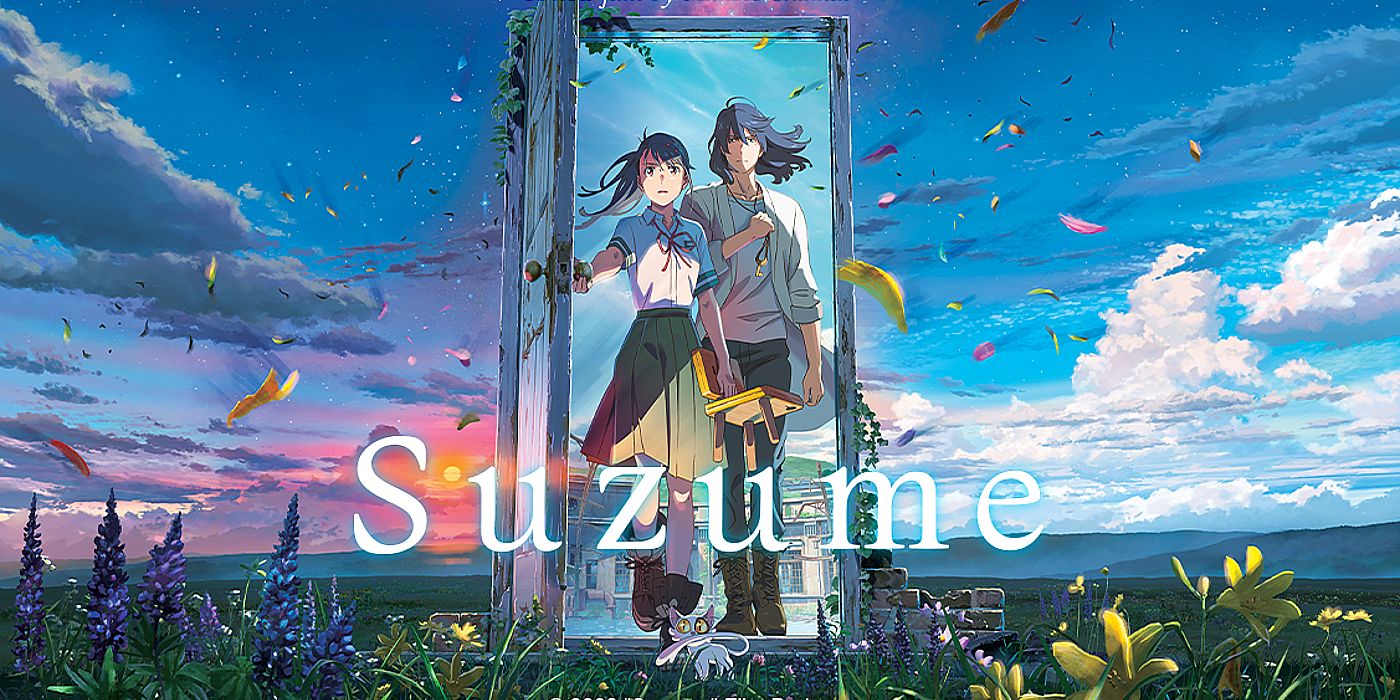 The newest film from the director of Your Name, titled Suzume, has just gotten a new trailer and international release date. Makoto Shinkai is a name that has become well-known to anime fans in recent years. The director is best known for his more dramatic works with a genre twist to tell unique stories that flip common tropes on their head and give audiences something they've never seen before. Shinkai has been creating films in Japan since the early 2000s. However, he found international acclaim with 2016's Your Name, which was a clever take on the traditional body swap story with a sci-fi twist leading to one of the best anime endings. Three years later, he would become an Oscar nominee with his follow-up film Weathering With You. Now, Shinkai is back with a new tale, and it looks to be his most ambitious yet.
According to a press release by Crunchyroll, Suzume "is a coming-of-age story for the 17-year-old protagonist, Suzume, set in various disaster-stricken locations across Japan, where she must close the doors causing devastation." The film was originally announced by Shinkai back in 2021 with a teaser image revolving around a mysterious door. However, the fact that this door, as well as others across Japan, is the key to causing such immense chaos is an incredibly interesting way to send Suzume on her adventure to save the country. The film was officially released in Japan just last month and has since earned an impressive 7.5 billion Yen ($55 million USD), beating Your Name's three-day debut record during its opening weekend. Now, the film is set to come to international theaters this April, and a new trailer is giving fans a taste of what's to come.
Related: Black Clover's First Movie Trailer Puts the Wizard King Center Stage
The trailer for Suzume features a variety of surreal imagery that foreshadows the chaos to come. There's whirlwind destruction that's shooting from an open door as Suzume and a mysterious man attempt to close it, hinting that this film won't be without its intense moments. The destruction is wonderfully animated with vibrant colors that perfectly sync with Suzuke's words, describing what she sees beyond the door as "a space where it seemed all time had melted together in the sky." It's just beauty beyond words, similar to the beautiful destruction caused at the end of Weathering With You. Tied together with an amazing song that plays throughout that will likely be the theme of the film, this teaser is a perfect way to get fans hyped for the film without giving too much away. Take a look at the trailer here:
Crunchyroll's International Release Schedule Promises Everyone Will Get to See Suzume
Along with the trailer for Suzume's international release, Crunchyroll also shared the official release dates for the film around the globe. While their distribution rights do not cover any countries in Asia like China and South Korea, the schedule for the film's release is still guaranteeing that Suzume will be available to fans around the world. France and Malta will be the first countries to screen the film on April 12th. Following them will be Australia, Brazil, Germany, Mexico and New Zealand on April 13th. Finally, April 14th will see the film released to Austria, Belgium, Canada, Gibraltar, Ireland, Luxembourg, the United Kingdom, and the United States. Crunchyroll has also stated in their press release that additional 2023 release dates will be announced in the future for additional Latin America, Europe, Middle East and African countries.
Suzume is undoubtedly the most hyped 2023 film for anime fans. Makoto Shinkai has made a big name for himself with his last two films, so expectations are high for his newest outing. If the popularity in Japan and the incredible new teaser are anything to go by though, the latest film from the Your Name director is sure to be a hit around the world.
Next: How the Jujutsu Kaisen 0 Trailer Rewrites the Manga (& Why)
Source: Crunchyroll
Mrs Teacher 3 Primeshots Web Series Cast, All Episodes, Watch Online 2022